October 2009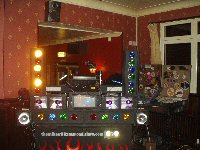 First one back and note the crap UV boxes!!! The Pond House pub is just down a long hill from my house. I arranged a 'free' gig there on (my) conditions that I did not upset the resident DJ, and if it all blew up, no matter. At home, under my car-port, it takes no more than 15mins to get all the gear out and set it up. I arrived at the pub and hour early. There were no lights at all - it was in darkness. Eventually I got the deck lights on and, an hour and a half later, I was ready, drenched in sweat, worried to death, but ready. Bang on the intro tune (Mr Bloe, what else ?), fade, talk - or rather mega feedback. Cut, fade into 'Spirit in the sky'. The first live gig I ever did was High Wycombe Town Hall in 1971. I was on first, then the Emperor Rosko, and top of the bill: Tammy Lynn. So, next record, 'I'm gonna run away from you' and attempt to tell that story by way of intro. Howl! Forget it, no mic then. So it all went well in the end, I now have a regular paid gig (every other week) at the pub. The resident DJ has quit and a friend of the landlady's sone does the alternate week playing the current stuff. Best bit is I set up on Saturday afternoon (it's all quite safe), go down in the evening and do my bit, then pick it all up on Sunday morning. The mics are sorted now, so next time...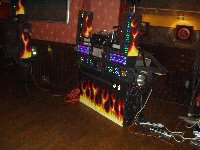 November 14th/25th 2009
Back at the Pond House. New horn cabs sorted out the top end - this time they kept asking me to turn it down. Bought a 'clip-on' spot to help when setting up - dropped it halfway through so had to rush out and get a new bulb. Mics working fine and managed to find places for a couple of projectors. The oil wheel was much loved. Gig was great, dozens of requests, all met except the one that said 'why don't you....' (not really, I made that up). Headphone amp went ballistic 30 mins from the end: under investigation, and the UV bulbs were useless. I have just finished replacing the bulbs with UV strips....more bookings.