CLICK on images to zoom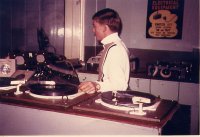 ....I never intended to be a Disc Jockey, like most things I have done, it was an accident. I was posted to RAF Gibraltar when Spain closed its borders with the colony. In the 60's (and on into the 70's), most RAF camps had their own 'radio' system.Usually this meant that every barrack block was fitted with a loudspeaker system (like a tannoy), that was controlled from some central point. Most RAF camps extended this by providing programs, often music and quizzes and so on. On Gibraltar this had been extended quite a lot and the married quarters and other units on The Rock, were all connected. Making friends with a few of the RAF who ran what was then called 'Rediffusion', I became interested in the electronics involved.
The way the studio worked was that an announcer would sit in the sound proof room ( we had lined it with egg cartons to achieve this), and a controller sat at the other side of a big glass window. The announcer would do his show, and the controller would mix the music, jingles adverts ( yes, it was commercial and made a bit of money too), as required. I was happy to act as a controller and had the side benefit of being able to tape any records I liked when we were off air.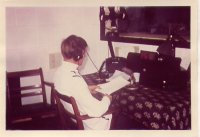 And here I am again, on air (my first time I think) Note the field telephone on the left. We used it to call through to the control room when we wanted something we could notconvey with hand signals. The red light in the middle can be seen on, and I am reading from a script. I do remember my first rehearsed words, they were "And that was the title". This would have been fine (naff but fine), had I actually said it just after the singer sang the title line. But I didn't, and so now all the listeners (yes both of them) that night remember The Four Tops "I can't help myself" as "Sugar pie honey bunch". Just as well the record wasn't "Strangers in the Night", do bee do bee do....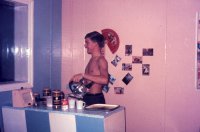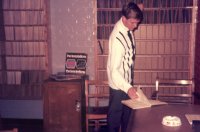 (Left) This is 'studio 2', where we entertained
WAFs and WRENs, and I made the tea.

(Right) We also had a large record library, a social room and a small workshop. One of the big attractions was the fact that all members had the right to draw the studio keys from the guardroom, and this meant access to the social room/studio 2. Given that there was a block of WAFs on the base and a whole building of WRENs, having a private room on tap was quite a bonus.

As well as the regular shows, a duty announcer who was appointed by roster had to turn up to make the links and read the news. One night he failed to show and as controller I had to do my best to fill in. And that's where it all began.
We were getting more and more polished and then I began to do my own show, ie put on the records and do all the rest to needed to run a program. This caught on and soon we renamed the station 'Radio East' (because it was located on the East beach). We began to make our own jingles by mixing and splicing tapes, and it all got to be very smooth. By this time I was totally into it all and a lot of time was being spent just piecing together a show. The prime slot of the week was always a show called 'Friday night at the club' ( Theme musis from 'The Drifters'), and that eventually became mine. One weekend, for the hell of it, we started running 'The Club'at 9pm, and ran on non-stop until Sunday afternoon.
Jimmy Saville was doing a BBC program called 'Saville's Travels' at that time. He duly reached Gib and we sat him down in our studio. He did a few links for us, finishing with Reperata and the Delron's 'This is the Captain of your ship'. We also got our 30 seconds of fame as he interviewed us for his program on BBC Radio 1. A few 'fan' letters reached Gib after that ( which is why one winter I ended up driving my scooter from Germany to Harlow in Essex for a date, and back by Monday morning).
One result of our tape splicing sessions was the creation of things like 'Bits and Pieces'; nothing is new in radio. People had to ring in and guess the records from a series of snippets we spliced together. We also ran quiz nights, setting up a number of microphones in the social room aka Studio 2. At some point we decided we needed better names than Mike, Alan and Dave etc. I used my middle name and Mike Williams was created (well I could hardly use 'Mike Houghton' !
Gibraltar was my last posting with the Army and I found myself back on civvy street in March 1970, with a small gratuity in my hand (or was I just pleased to see you all) but it seemed a lot to me at the time. On my way home on my discharge day I got my first speeding ticket - in Reading. I had the bright idea (I thought) of starting up a mobile discotheque. In the early 1970's these were just beginning to happen. This was the real start. Even before this idea I had found RAF High Wycombe and became a guest civvy DJ on their camp system.
BACK IN CIVVY STREET - 1970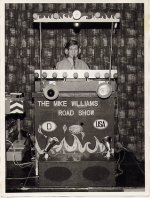 At this time I was attending a Training Center in Slough were I was learning to be a Radio and TV engineer. As I was learning electronics there, so I was building my first equipment. I had put a banner up in my car window, my first car (a Wolseley 15/60 saloon), advertising my disco. My first booking came, as ever, by a sort of mistake.As I drove though High Wycombe one day I became aware that I was being followed. I tried to shake them off, but I could not so in the end I decided to pull over and deal with it. Three guys got out of the other car, and a few minutes later I had my first booking, High Wycombe Town Hall. Tammy (I'm gonna run away from you) was headlining, The Emperor Rosko was the supporting act. All I had was the top forty and a 20W amp as warm up for Rosko. I like to think that the Malcolm Brown who booked me is the same MB who now works at the BBC, but I have no idea.
On the day, the Town Hall doors opened and dozens of girls swarmed in. I put on my first public record, Norman Greenbaum's 'Spirit in the sky'. The girls formed up in a long line and did their thing, a good start. Well I got through my session okay, and then Rosko showed how it should really be done. All the theory I had studied implied that 20W a channel would blow your head off. It didn't. First on the list: bigger amplfier!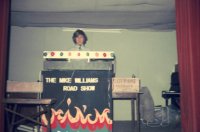 (Right and bottom left)) This is how the system looked at the very start. There were two other speakers but not a lot of watts. A projector shone through the hole in the stand and the neon strobe would only fire if a lighter was held close to it ! The spot above my head was wired to a sound switch and came on when I spoke. Make that two burgers, one hot dog and three teas guv'nor (yeah, people really came out with that one, once it was set up). The picture on the right is the only colour photo I have. The photo at top left was taken at RAF High Wycombe in 1971 after my German tour, and the one above was taken at Wootton Village Hall in 1970. In the phto above you can see the hole in the screen (just left of the USA decal) through which my first projector shone. This was an old slide projector that I had converted to take a wheel I that had a number of coloured sections. By the time the Disco was established this was long gone and was replaced by very powerful Rank Aldis projectors. The flame idea originated when I was stationed in Gibraltar and I painted a few Pop Art posters for the studio. I used to be a bit arty then, but luckily, I held on to the day job.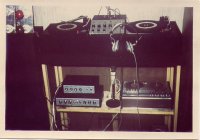 This is more or less the work side of the system then. On the left is the 20W amp and on top the first light unit I built. The mixer was also built by me, by more or less copying the circuit of one I had bought. You can just make out a speaker on the left.

I started to get the odd booking, nothing very much, and then I got a call from an Agent (John Harrington of Spectrum productions). He came to see me with his top deejay (one DD Lee), and I did a bit for them in the front room of my home. At that time I had next to no light show and very little equipment. However, John knew a superstar when he saw one and he signed me, giving me small bookings to do that I suppose his 'stars' did not want. As I earned a bit of money so the Disco grew, rapidly. I was forever building bigger and better amplifiers and light shows. Within a year the bookings were on the up and I was beginning to offer a show, of sorts.
RADIO NORTH SEA INTERNATIONAL
It was around this time that I got a Manager too. Through him I did an audition tape for Radio North Sea International. We went to the studios and they wanted me to sit at a microphone and deliver all my patter, then they would mix in the music, fading every track out after about 30 secs. I wasn't having any of that, so they showed me the desk, I sat down and did my show, in one take. Near the end the sound engineer was praying (he said later), that I would not hit the wrong button and ruin the tape, but it was all okay. So with the tape done it was off to the offices of RNSI. Unfortunately the Government had decided to pass The Maritime Offences Act, and just like Radio Caroline, RNSI was shut down.
BACK TO GERMANY

The next 'accident' was spotting an ad in the New Musical Express, wanting deejays for work abroad. I had just completed my Radio and TV course so it seemed a good thing to do, and I applied for an audition. I had to go to an audition in a hall off Tottenham Court Road in London. When I arrived there were lots of mobile discos in and out, many trying to repair broken consoles and amplifiers. On I went, set up, did my stuff and got a job. Originally I was going to Denmark but a last minute change sent me off to a US Army base near Frankfurt in a village called Wildflecken. Wildflecken was as near to the East German border as you could get. As usual, I got lost on the way and ended up on a US Army Tank range (but they never could have hit me), and an MP directed me to the base.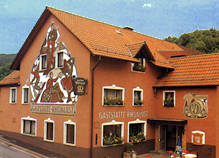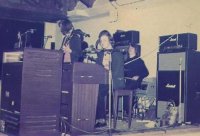 That was a mad month of working late and days off. I stayed at a Gasthause (left) in a nearby village called Oberweissenbrunn, with a British Band (Brass Windmill on the right) who were also at the base. Very little money filtered through from the German agents but the 'Herr Ober' was very genial and allowed us to cook eggs and potatoes whenever we liked, in his kitchen. For much of the time that's all we ate. Just how friendly Herr Ober was became clear when he made a suggestion to one of the guys in the band. I had collected two dancers in Frankfurt who performed during my show (which was abysmal - the show that is, not the dancing). One girl teamed up with a US guy and at the end of the gig both girls got a booking in Japan. The band ruined James Brown's 'Sex Machine for me. They did a good cover but sang it "like a washing machine". Nobody seemed to notice but whenever I hear it now I reach for the soap powder.
One night a US soldier 'lost it' and shot somebody who had upset him ( in the club), so the base was shut down and all civilians sent off while they investigated, so that ended that gig. I drove home to England with empty pockets and no job. On the way back I called in at my old Regiment), to find most of my old friends still there. I managed to do a guest spot in a local Disco that I used to frequent when I was based there. Once back in the UK I started work as a mild mannered TV engineer ( by day), superstar deejay by night.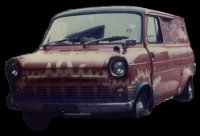 DD LEE JOINS THE SHOW - 1971
I had been using the second car I owned, a Cortina Mk1 estate, for the disco, but I had an Escort for my job and so the Cortina was replaced with a Transit. If you were in a band or you had a disco, you had to have a transit - maybe not like this one. For the time it was quite radical with racing car slicks at the back, flame paint job, custom cab and a breathed upon engine. For the 1970's my Transit was a bit outrageous and we were always getting stopped by the Police
Meanwhile, it was sometime in late 1971, John's (my agent)top show 'The Pound Machine', was in the throes of collapse. The guys in the PM had been at it a while and were getting a bit jaded by it all. At the same time my show was still growing and so DD Lee(Terry) left the Pound Machine, and joined up with me, and then we really took off.
By the time Terry and I had got together I had left home and was sharing a house in Windsor with another Dee Jay, Phil England. Some of the parties were rather loud. Also, at this time, I was working for Telefusion, a rental TV company. The manager there had a simple but very effective strategy. Each engineer had his own patch apart from holiday cover. The deal was you only attended calls on your own patch. It was simple. Once I had sorted out a number of historic bad fixes, I ended up with a very low call rate. The other part of the deal was that you completed all the calls you were given that day, and then you finished. My record was to complete 22 service calls ( and fix all 22 TV sets) in the same day that was when I first got my patch. My next record was to be finished and back in Windsor by 10am. This gave me lots of time for disco bookings.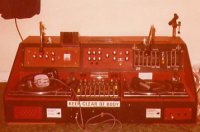 By this time the simple desk I started with had grown into this ( more in the Gallery). At back left is a light controller, in the middle phase and echo, and at the right treble and bass for each channel. New record decks and jingles from the cassette deck. The amplifier was now up to 400W with another 200W unit when we need it. With UV, stobes ( that worked now), projectors, spots and banks of lights, it was quite a show. There were 4 tall cabinets of 12" speakers, a pair of 18" bass bins and we had another pair if need be, plus a pair of high power horn speakers. There are more equipment photos on The Gallery page.
Terry was very good at getting bookings (for which my Agent got nothing) and we also got a lot, from my Agent.
There was a wide variety of venues such as;

Wandsworth prison was a regular, the officer's social club which is located just outside the walls of theprison.
Latimer Defence College, where officers are trained in military tactics (and so were the WACs).
HIAC club at Heathrow, and from whose poster we lifted the graphic for our Disco Stickers.
A Riverboat shuffle, turning down the volume at every lock.
A Cordon Bleu school for young ladies near Ascot, amazing buffet.
Quaglinos restaurant in the West End of London. McGuinness Flint were in the charts with 'When I'm dead and gone'. They were also playing in another room at Quaglinos. We got the bigger crowd (they made a lot more money).
Slough cricket ground. it was of course open air and I was so chuffed when the Police arrived and told me to turn down thevolume.
Numerous youth clubs.
Many, many church hall weddings, too many.
And a sleazy pub in Aldershot.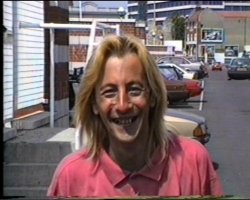 Ah yes, Aldershot. One Sunday my Agent phoned up because he did not have a deejay to put into a regular of his, in Aldershot. At the time I was still sharing a house with Phil England (that's him on the left)and neither of us had anything to do, so just for fun we said we would both do it. I remember it paid £10 so it definitely was not for the money). We drove down to the pub; two Transits full of equipment, two roadies and two deejays. There was no stage, just a corner by the door to the Gents, and when it opened, well you did not want to go there. The place was a squaddie dive. No disrespect to squaddies, after all I was one, but there are pubs that squaddies use to drink in and there are pubs for a night out. During the evening ladies of a certain virtue were in and out with the squaddies as fast as they could get their knickers down. As a gig it was great, the Landlord, bless him, loved it and said 'I must have you back'. Not for a tenner you won't mate, we told him.

After a few years (about 20) I looked up Phil again to find that he was still working in 1991 as a deejay in Southampton, that's where the photo was taken; its actually a frame from my camcorder.
There was a darker side to the Disco scene. One lot tried to clean up on some of Spectrum's regular venues. I don't know the full story, except that they finished one gig to find their Transit neatly cut in half in the car park. They didn't seem to bother much after that.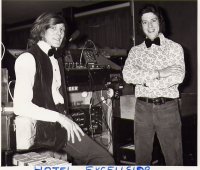 1973 - THE BEST YEAR
In a small way, we were beginning to get a following. There were a few regulars such as Fraser's club in Guildford and Sgt Pepper's in Staines. We were getting a good fee for the show and we were having a great time. Terry used to be a drummer in a band and quite often Terry would bang the drums and the group drummer would have a go as a deejay when we shared a gig with a live band.
The Disco had developed into a kind of act. We never played the music we liked (so many did) but worked hard to figure out what the audience wanted, and played that. We had 'specialties' such as our segued Rock and Roll; about twenty singles that we had worked out an order for. We would play a burst of each one. Mixing into the next after a minute or so, there was no tape - it was all live, and the dance floor would go crazy.
By 1973 the disco had grown to the fill the Transit and we could easily spend an hour just setting up. Now sporting bow-ties and our set pieces we tried to give a show rather than just play records, and it seemed to work. There was a TV program at the time called 'Jokers Wild', it was two teams of comedians telling jokes. I used to tape the soundtrack (no video recorders then), and then use it as material at the gigs. If any year was the peak, it was 1973. Our agent used to come along to the odd gig now and then. He came to a gig we did at the HIAC club, Heathrow. By the end of the night Terry was standing on one speaker stack, I was on the other, the crowd were just mad, (we were playing Slade's 'We're all crazy now') and John was just gaping in disbelief. It was a good gig.
After a night at Frasers in Guildford we used to set up a camping stove and brew up before the drive home. Ah that wild rock and roll lifestyle eh.


AND ITS ALL OVER NOW
I carried the disco on a bit after I got married, but there came I time when I realized I was not going to get the break I had hoped for, and so the disco was sold up to provide the deposit for my first house. As far as I know, Terry, DD Lee, is still going. I still have my record boxes; they are on my garage wall full of car cleaning stuff (and more than a few memories). Every now and then a record is released and its that kind of song that makes you wish you were playing it on a stage, somewhere.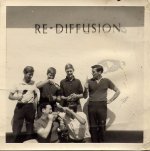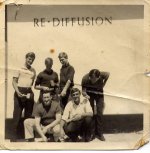 And finally, my greetings to anybody who ever worked at Radio East. Whilst clearing out my garage I came across a pile of 'lost;' army photos. Here we all are at Re-diffusion, later Radio East (see Army), after re-painting the place. The guy in the front right row did a show callled 'Dave Black's Stick", and he used to dish the dirt and the gossip on all the goings on. It was quite funny at the time.