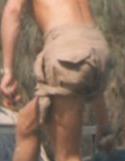 These are my shorts, and below are links to some of my short stories. Sometimes I get an idea and have to write the story, and sometimes a whole thread comes out - some of my stories have a similar theme or 'twist' to them because they were written one after the other, and others just stand alone. I hope you enjoy them, as much as I do writing them. I have written three full length novels but as yet none have been published. The last rejection that I got from Headline Publishing was so good, I kept it ! You never know.





The Anniversary was written mainly because I have an interest in classic cars - I like to read the classic car magazines, and an idea occured to me which became this story of a couple setting out on their wedding anniversary, and never arriving, or always making the journey, for eternity.

I spent some time working on the computers at Gatwick and Heathrow. I also like the Everly Brothers 'Ebony Eyes', and so Flight 216 grew out of that, and the idea of a lost aircraft finally making its destination.

B Company draws on the exercises (manouvers) that I took part on whilst based in Germany and the idea of what might have happened if a modern equipped patrol ran into a crack Waffen SS patrol.

I had an idea for a science fiction short that I could have developed into a much longer story, but that was how Coming Home got to be written.The idea may not be original, but it was just my take on how we might blow ourselves to pieces someday.

For a short and unhappy time I owned a Jaguar. I did not like that car, but during the time I owned it there was a late recall to fix two hoses that could shear and render the car both brakless and unsteerable. It was this that prompted Jimmy's Jag - that and the dealer that I bought the car from.

For Max I went back to Celle - not literally, but in my mind. Much of the background lies there.

One year I drove from Boston to Niagara Falls. On the way I stopped at a town called Little Falls in New York State. It was just as I imagined smalltown USA to be. A very dear friend of mine also took me around his home town of Bedford NH, which is much the same. Joining these places together gave me the town in which I set Red and Me. David, this one was for you.

Returning to the North London that I grew up in, The Flats came about by that experience.

What would happen if you picked up your morning newspaper and it was the edition due out tomorrow ? That was the thought behind Tomorrow's News , but I tried to give it a little twist at the end.

Friends is, I suppose, a variation on 'Red and Me'. Another time, another war perhaps. There is no comradeship like that in the forces - but you have to have served to understand that.

So here they are, some of my tales. I do not claim to be a novelist, I just enjoy writing the odd story or two and if somebody else reads one and enjoys it, well thats what its all about I think.