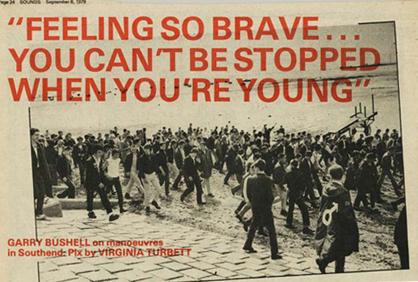 Because I served in the Army from 1965 to 1970 it may be thought that the sixties passed me by. Not a bit of it, the sixites touched us all. How many people who lived through the sixties remember John Lennon marrying Yoko Ono. I do, I was there. When Sergeant Peppers Lonely Hearts Club band was released there was a queue at the NAAFI in Germany, and when Jummy Ruffin released "What becomes of the broken hearted" we had a whip round to raise enough to buy a copy. My Mod scooter went down a storm in Germany too.

And what about those Mods and Rockers battles ? Well, yes, they happened but I only went to one and it was the occasion of going that was great, not the prospect of causing mayhem (although we did I suppose). About twenty of us set off from North London, heading for Brighton. As we crossed London we were joined by others until there was one huge stream of Mods on Scooters, heading for the coast.





The first photo was inside the barracks at Celle, just before a night out. In the middle, I think I have just bought "What becomes of the broken-hearted", and the right hand photo, well what can I say. I'm cool. :-) (Are they the same boots we see in my photo crossing into Belgium four years later ? Probably). You can view these three photos in a bigger size and a few more too if you visit my Gallery page.



I wanted to list my favourite five tracks from the sixties. Impossible. Finally, I have stopped at 40 - the 40 tracks that one way or another meant a lot to me at that time, and represent my 1960's. There could so easily be 100.



Procul Haruum - Whiter Shade of pale
Dusty Springfield - You don't have to say you love me
Kinks - Tired of waiting
Temptations - My Girl
Four Tops - Reach out
Supremes - Reflections
Jimmy Ruffin - What becomes of the broken hearted
Marvin Gaye - I heard it through the grapevine
Beach Boys - Don't worry baby
Spencer Davis - Gimme some lovin'

Georgie Fame - Sitting in the park
Sandie Shaw - (There's) Always something there to remind me
Peter Sarstadt - Where do you go to my lovely
Them - Here comes the night
Scott McKenzie - San Francisco (wear flowers in your hair)
Beatles - All my loving
Yardbirds - For your love
Rolling Stones - The last time
Gene Pitney -I'm gonna be strong
Moody Blues - Go Now

Thunderclap Newman - Something in the air
Jethro Tull - Living in the past
Righteous Brothers - You've lost that loving feeling
David Bowie - Space Oddity
Elton John - Your song
Sonny and Cher - I got you babe
Simon and Garfunkel - Sound of Silence
Fleetwood Mac - Albatross
Mamas and Papas - Go where you wanna go
Manfed Mann - Pretty Flamingo

The Crystals - Da Doo Ron Ron
Julie Driscoll - (This) Wheels on fire
Twinkle - Terry
Shangri Las - The leader of the pack
Desmond Dekker - 007
The Who - My Generation
Dave Clark Five - Glad all over
Chris Andrews - Yesterday Man
Bee Gees - Massachusetts
Stevie Wonder - Uptight


There is no particular order to these choices - they are just the special songs that come back to me. The very first single I bought by the orginal artist was The Stones 'Last Time'. Woolworths used to sell covers of the top twenty that were much cheaper ( crap, but cheaper).


There were lots of different covers, but my copy was the sad old Orange sleeve. The first album I ever bought was "With the Beatles", from which I chose "All my loving" as my Beatles song. In later years it would have been 'Let it Be'. I was so chuffed when I got the album (from a shop in Tottenham Court Road in London) that I managed to borrow a record player (a Gramaphone to be precise), when I got back to work. That was how I found out what happens when you put a 'modern' record on a wind up 78 Gramaphone.....


So did I miss out on the sixties ? Not a bit of it. I got to visit the Marqee Club in London and The Star Club in Hamburg. I was resident DeeJay for a while in a German Club. All the fads and crazes passed through the forces. Most shifts on guard were spent at least half stoned - it was the best way to stay awake. All we really missed was the hair. Every track in the list has a story - I bought a cheap radio when Procul Harum made their debut. I was on a course in Hohne, Germany, and every night I would tune in to Luxembourg 208, just to hear it. Tottenham Royal was THE club in North London, and a venue for much mayhem too. There was also The Ace cafe on the North Circular, where all the rockers hung out - its still there and is is still full of bikers, but the Mods are long gone - we used to ride by to annoy them and hope they didn't come after us.


'Tired of waiting' became my signature for a while - whenever I went to the pub in which we ( the mods with scooters) met for a half of mild, that was the track that was put on, for me. Then there was Desmond Dekker and for a while I used to speak some of the Jamaican patois, it was so groovy. Dave Clark ? Well we went to the same school. The local dance halls banned stamping in time to 'Glad all over'. Of all The Supremes, why 'Reflections' ? It was that sonar like echo in the middle "....reflections of, how life used to be....whoop, whoop..." Every song here and a lot I have not listed tell a tale from the 1960s, when 2/6d put enough petrol in my scooter for us to tear off from Tottenham to Southend just to buy a pot of cockles and walk along the beach. We went to Bournemouth to see The Sweet one evening but they were so bad we came straight back. And then there were The Temptations at The Royal Albert Hall - amazing, and The Kinks at Finsbury Park Empire .


Sonny and Cher topped the charts during my basic training in Oswestry. As for the Santana album, well that was their first which was followed in the 70's by 'Abraxas', which was when I really got into them, and I still have the original vinyl, and many of the albums here. Heavy rock came to me a bit later although I did like Cream back then, but not bands like Pink Floyd and Led Zepplin. Now ? 'Dark side of the moon' is rarely out of my CD changer, along with Dusty and Santana that is. Who is that on the end in the row above ? Remember 'Terry', by Twinkle ? She followed it up with 'Golden lights' and then faded away forever.


I was in a club called 'The Hole in the Wall' in Gib - it was off limits so we all used to go there. My friend had taken his fiancee. Everybody was trying to get a dance with her, except me ( I was sooo shy then). Anyway, near the end of the night 'Where do you go to my lovely' was put on and I asked her. That started a pleasant fling for a few months - she said she was wondering why I had not tried it on like the others. Unfortunately, the engagement did not last as long as my fling. Sorry John.

In the 'summer of love' (1966) I was in Gernamy. We went out one night, along the river that runs through Celle (Germany) , and pinched some huge sunflower heads from a garden. Back in camp we brewed these up and boiled away until a brown sludge was left. Into this we dipped sugar cubes, and ate them. We expected LSD, (well we didn't know). Needless to say, it was a waste of time.


These are by no means all my favourites, but you have to stop somewhere, this was my music in the 60's. I suppose the main part of that decade for me was the music and the Scooters. For a long time there were no crash helmets - we used to cruise up and down Wood Green High Road looking for 'a bird'. We thought we were the business, even when as I cruised passed one lovely giving her the eye, I went straight into the back of a bus. If we had any money left it was usually spent in the Wimpy at the top of the High Road, or on a packet of ten Cadets.
Epping Forest is North of London. In the middle there is a pub ( its still there). Most Sundays Mods from all over used to converge on the pub and we would cruise up and down, trying to pull. I don't remember ever going into the pub - it was just the focal point.


It was the custom to put transfers on the side panels of the Scooter with your girl's name. I got fed up with keep changing them and left it as ' Mick &', (you can just see it in the photo ) which proved quite effective in the end because girls wanted their name there - but it never happened and I was always Mick And. In the Army they just called me Mick the Mod.

So that was my 1960's, the era when the old style Rock and Roll and crooners were replaced by an explosion of music and talent whose legacy continues today. In thirty year's time will some grand-dad listening to Oasis say to his grand-son, "Ah yes. I was at that concert and Liam gobbed right in my eye. Brilliant (Yer try t'tell young 'uns t'day and they won't believe yer) ". Maybe. But where it all began, well I was there.